As an outdoor Planter, of course it is inseparable from the well-known corten steel planter boxes. Garden Planter pots are a type of flower pots specially designed for outdoor environments. Their excellent corrosion resistance and durability make them very suitable for outdoor environments. Below we'll detail why corten steel flower pots are the best material for outdoor flower pots.
Contact Us Now!
1. The garden planter is made of corrosion-resistant steel, which has excellent corrosion resistance and durability. In the outdoor environment, it can effectively resist the damage of wind and rain erosion, ultraviolet radiation and other natural factors, so as to maintain its original shape and appearance for a long time. The corten steel trough planter has a modern and stylish design. With its simple and generous appearance, it can add a unique style to various modern buildings and public spaces.
2.
Garden planters
are easy to maintain. As its surface is specially treated, it can be kept clean and smooth for a long time without frequent cleaning and maintenance. This provides a time-saving option for busy people to better enjoy gardening.
3. Large metal planters can be customised or designed into various shapes and sizes to suit a variety of plants and design needs.
4. Garden steel planters are durable and do not require frequent replacement or repair. Also, the nature of its surface treatment makes it self-cleaning, making cleaning and maintenance less difficult.
5.
Corten steel planter boxes
has the advantage of environmental sustainability. It is recyclable and meets the environmental and sustainable principles of modern gardening. This makes it a responsible choice to do your part for our planet.
As China's leading supplier of corten steel products, AHL Group is committed to producing garden planter boxes for backyards. We are constantly looking for foreign agents, please
contact us
immediately!


A. Best large Garden Planters-CP17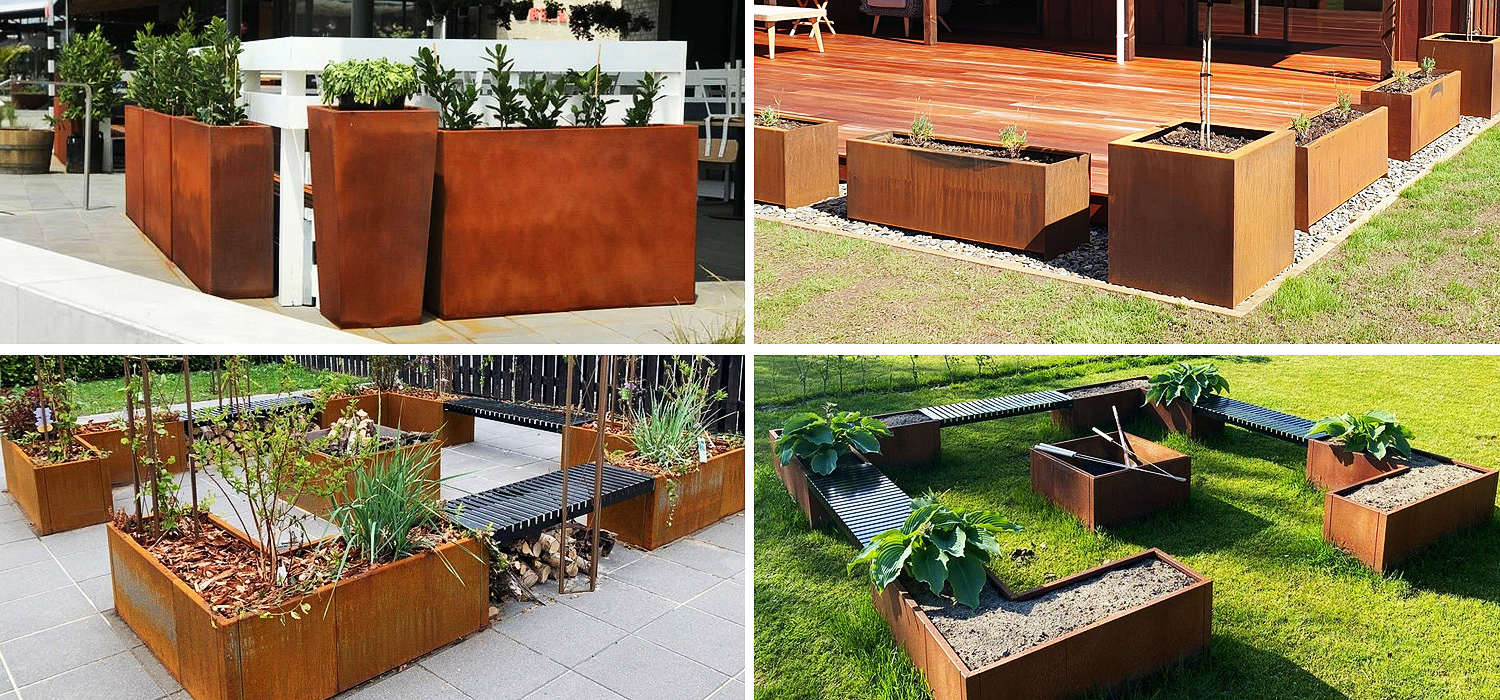 Pros
1. provides more room for plants to grow and flourish
2. Neutral colours to suit any landscape
3. Large size allows for multiple (or larger) plants
4. made of corten steel metal for durability
Cons
1. no more colours to choose from other than rust and black
2. while you can put larger plants in this planter, you may stunt their growth if they need more space to root
This whimsical trough planter brings quintessential charm to any garden design. Place the
large outdoor planter
on a deck or patio, line a walkway, or simply use the planter as a garden focal point.
Measuring H 45 x W 80 x D 45 cm, this planter is large enough to hold a wide range of plants and flowers, so if you're looking to create a small flower bed, this could be the planter for you.
B. Garden Rectangular planters -CP09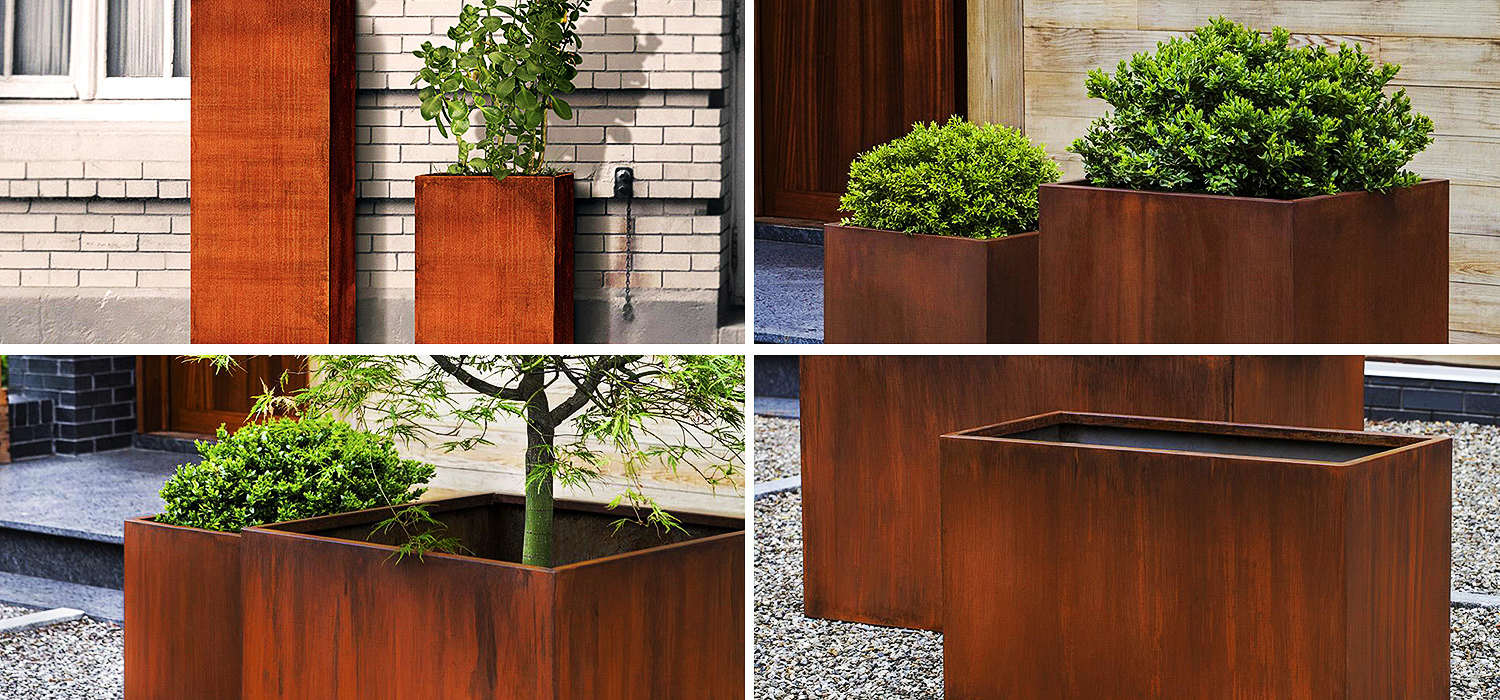 Pros
1. Easy to match: Corten steel trough planter pots can be used with various types of plants and landscape elements, such as stone, wood, water features, etc., to create a more natural and harmonious landscape effect.
2. Wide range of applications: small metal planter pots are not only suitable for outdoor environments, but can also be used indoors, such as placing plants in homes, offices, restaurants and other places.
3. Good weather resistance: Due to its strong and durable characteristics, corten steel flower pots can well resist wind and rain erosion, protecting plants and the flower pot itself from damage.
Cons
1. Not suitable for all plants: Weather-resistant steel planters are suitable for most plants, but may not be the best choice for plants that require a special maintenance environment. You need to choose the right planter according to the growing situation and needs of your plants.
2. Inconvenient to transport: Weather-resistant steel planters are heavy and can be difficult to transport. Care must be taken when transporting to avoid damaging the planter or the plants.
If you want to have high-quality and affordable flower pots, please
contact us
today!

III. How do Bespoke Metal Garden Planters Serve Garden Designers or Gardeners?

Corten steel flowerpots are made from corrosion-resistant and durable steel and are popular in modern public spaces and domestic environments due to their unique metallic texture and colour. As well as looking great in gardens, they also provide the perfect décor for fashionistas looking for a modern, industrial look.

1. For the gardener, a corten steel planter is an indispensable assistant. They provide a stable growing environment for plants without the need for special maintenance or upkeep, saving considerable time and energy. Large metal planters, on the other hand, can be customised or designed in a variety of shapes and sizes to suit a wide range of plant and design needs.

2. For landscape designers, cortensteel planters are an excellent tool for creating a modern landscape. They blend perfectly with a variety of modern buildings and public spaces and add a stylish, modern feel to the overall environment. The durability of Large metal planters is even more impressive as they can withstand the elements and retain their original shape and appearance over time.

Corten steel flowerpots are also eco-friendly in this ecologically conscious and sustainable era. They are recyclable and reusable, and they adhere to the concepts of environmental protection and modern landscaping. This necessitates making responsible decisions that benefit the environment.
Due to environmental and climate concerns, weathering steel sheets are mainly used in Western countries such as the United States. Weathered steel planters can be seen throughout the garden and are very beautiful. America's ever-changing climate, from cold winters to hot summers to dry desert climates, requires outdoor materials that can adapt to a variety of environmental conditions. Additionally, weathered steel planters are particularly malleable and less susceptible to weather conditions, making them very popular among Americans.
If you want to experience a different garden life, please
contact us
today!
Raised garden beds
are popular for outdoor use due to their excellent durability and ability to withstand the elements. However, the specific thickness required for corten steel planters depends on the intended use and location.
1. Thicker corten steel may be required if the planter is used commercially or subject to heavy wear. For example, in commercial applications or high traffic areas, thicknesses of 1/2 to 3/4 inch (13 to 19 mm) may be used. These thicker
corten steel planter boxes
are more durable and can support larger plants and heavier materials.
2. For general residential use, a thickness of 1/8 - 1/4 inch (3 - 6 mm) is usually sufficient. These pots are often used for growing small plants or as decorative elements, and their thin walls allow for quick and effective drainage.
Raised Garden Beds specialises in custom small metal planters designed to meet your specific needs.
AHL
Group can help you choose the right thickness, grade and finish for your project, ensuring that your Corten steel planters will provide years of reliable service.
Contact us
today to discuss your requirements and get a free quote.