AHL Group, a leading manufacturer of weathering steel retaining panels, is known for superior quality. Our precision-crafted, durable retaining plates are rigorously tested for strength and safety. We offer diverse design options to enhance your landscape's beauty. We're seeking global agents for mutual growth.
Contact us
for more information.

I. How can Backyard Landscape Edging Transform your Outdoor Space in 2023?
In 2023, the backyard landscape edge will be reborn, breaking with tradition and bringing an unprecedented look and experience to your outdoor space!
Consider that your backyard has been changed into a dynamic and helpful social place, rather than just a dull border line. Yes, that is correct—that is the wonder of steel edges that are resistant to weather! Your backyard becomes an ideal gathering spot for family and friends in an instant with the addition of seats, tables, lights, storage, and other features. Furthermore, in order to create an unmatched sense of openness and freedom, we have given particular attention to the arrangement and design of the outdoor space to ensure that it complements the interior of the house.
Don't want the same old fences and walls? No problem, individuality and variety are king! Weather-resistant steel edging with its wide choice of materials, colours and shapes will create a unique backyard landscape. Plants and flowers are also at the centre of our attention, blending perfectly with the edging to create a picturesque view of nature.
And let's not forget that interaction is just as important as the experience! Weather-resistant steel edge is not only a visual enjoyment, but also a multi-sensory feast for touch and hearing. Water features, lighting, and recreational facilities are incorporated to give your backyard a glamour like no other. At the same time, we encourage you to interact with your neighbours and the community, strengthening ties and friendships through sharing space and helping each other.
Not only that, but weather-resistant steel edges add even more utility to outdoor spaces. Hanging lighting, climbing plants or decorations? Not a problem! Its superior structural strength and stability also allows it to carry children's play space, adding endless joy to your outdoor life.
Don't miss out on the opportunity to elevate your garden aesthetics this year.
Contact us
today for a quote and turn your garden dreams into a reality. Your outdoor paradise is just a click away!
2023 Hot Selling Garden Corten Lawn Edging -
AHL-GE06


Common Size: L1500mm×H350mm



II. What are the Latest Backyard Garden Edging Ideas for a Stunning Landscape?
Want to create a truly stunning landscape? We have a cutting-edge garden edging idea that adds sophistication as well as durability.
Starting with a suspended garden, this imaginative design brings a fantastic visual effect to your garden edging. It not only optimises space but creates a sense of openness that extends infinitely. Weather-resistant steel lawn edging blends perfectly with this design, adding a sophisticated finishing touch to the suspended garden and creating the ultimate visual treat.
When approaching the flower garden, the general staff exchanged the idea of ​​the garden ladder, and when the flower garden was spread, it provided different angles and different viewing angles. This will not increase the depth of the flower garden, but it will also provide you with a truly beautiful opportunity, which will give you the eternal charm of a weather-resistant grassland. Arc-shaped flower garden design, strong flow of beauty, and a sense of natural harmony. During the course of the general weather resistance of the grass, the construction of the grass will attract the attention of the customers, and the flower garden will give you a sense of beauty.
The combination of modern garden edging concepts and weather-resistant steel
lawn edging
will bring a stunning view to your outdoor space. It has a unique charm and long-lasting benefits that will make your garden more sophisticated and unique.
The world of modern garden edging ideas, accompanied by Corten Steel Lawn Edging, has the power to transform your outdoor space into a breathtaking landscape of unique charm and enduring benefits. Dive into these ideas to make your garden even more exquisite and distinctive.
Ready to elevate your garden?
Contact us
now for a quote and bring your vision to life!
Click More Backyard Garden Edging Wholesale-
AHL-GE04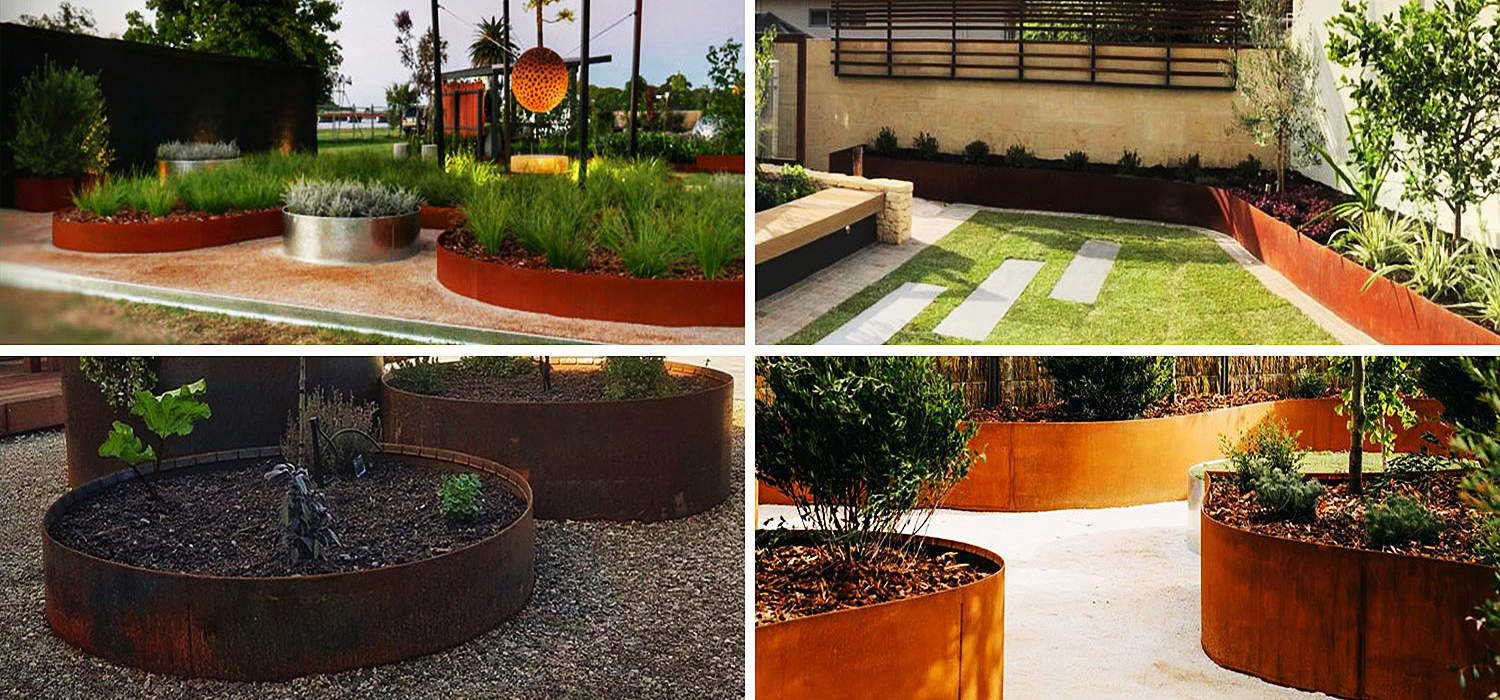 Common Size: D800mm×H400mm


III. What are Some Popular Landscaping Styles That Pair Well with Retaining Walls?
Corten steel retaining walls are an important element of landscape design and blend seamlessly with a variety of popular landscaping styles. Let's delve into the harmonious combinations of weathering steel retaining walls with these prevalent design approaches.
The strength, texture and elegance of weathering steel retaining walls as an essential element of landscape design allow them to blend seamlessly with a variety of popular landscape styles. Let's take an in-depth look at how weathering steel retaining walls can be harmoniously combined with these popular design approaches to bring unprecedented visual enjoyment to your outdoor space!
1. Modern Minimalist: The sturdiness and texture of a weathering steel retaining wall echoes the clean lines and geometric shapes of modern minimalist style. By utilising the strength and visual appeal of weathering steel, designers can create modern landscapes that are both elegant and durable. Plants dotted on the retaining wall add natural beauty and further enhance the overall design.
2. Industrial Retro Style: The authentic colours and textures of weather-resistant steel retaining walls are a perfect match for the industrial retro style. This style often incorporates elements such as exposed brick, ironwork and stone, adding a unique charm to the rugged aesthetic of weathering steel. The softness of the plants interacts with the toughness of the industrial elements to create a unique landscape that tells a story of the past.
3. Natural Rustic Style: Weathering steel retaining walls can mimic the texture of natural rocks, blending perfectly with the natural rustic style. Designers can use the form and material of weathering steel to shape a landscape that exudes natural charm. The choice of plants based on wildflowers and weeds, simplicity and serenity, creates a peaceful and idyllic atmosphere.
4. Scandinavian style: The inherent colours and textures of
weathering steel retaining walls
go perfectly with Scandinavian design concepts. Designers can utilise the robustness and clean lines of weather-resistant steel to shape the landscape in a Scandinavian style. Plant selection often favours vibrant, rustic greenery to inject freshness into the overall composition.
Whether you prefer a modern minimalist, industrial retro, natural rustic or Scandinavian style, weathering steel retaining walls can add unique charm and value to your outdoor space. If you are interested in this, please feel free to contact us immediately! We will provide you with the best quality service and the most reasonable price to make your garden shine like never before!
If you are interested, please
contact us
today!
Hot Sale Outdoor Landscape Edging

-
AHL-GE07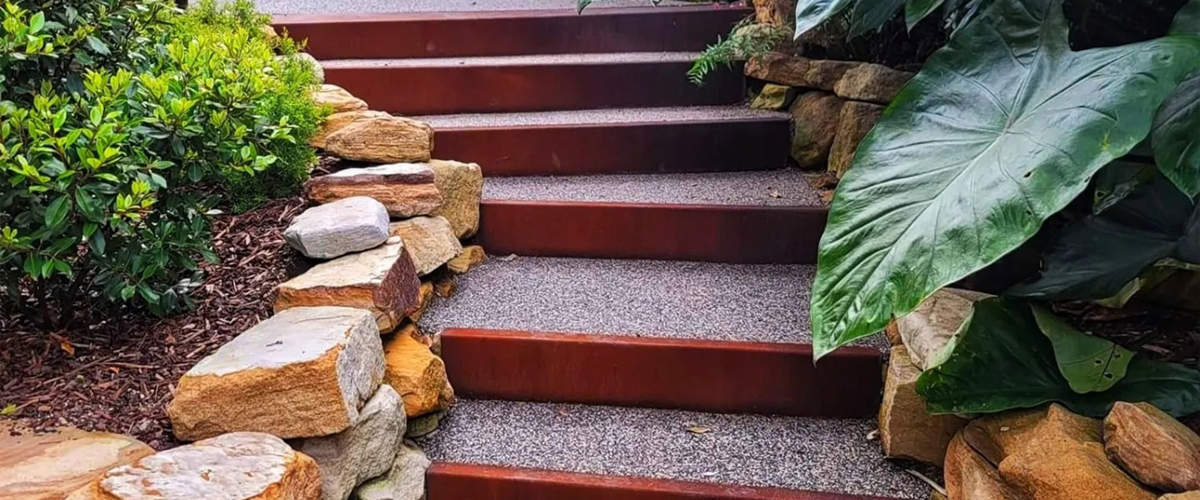 Common Size: L1500mm×H300mm


IV. How can you Integrate Corten Steel Retaining Walls with Other Landscaping Elements Like Water Features or Fountains?
Integrating Corten Steel Retaining Walls with other landscaping elements like water features or fountains can yield a visually striking and harmonious outdoor environment. Here are some creative ways to achieve this synergy:
1. Waterfall Wall: Incorporate a Corten Steel Retaining Wall into the design of a waterfall. Water cascading down the rusty steel creates a captivating contrast between the industrial and the natural, offering a dynamic focal point in your landscape.
2. Reflective Pools: Position a landscape edging adjacent to a reflective pool or pond. The rusty hues of the steel beautifully mirror in the calm water, adding depth and warmth to the landscape.
3. Fountain Backdrop: Use a flower bed edging ideasl as a backdrop for a fountain. The rich patina of the steel sets an elegant stage for the fountain's dynamic water display, creating an enchanting atmosphere.
4. Plants and Greenery: Plant lush greenery along the top or base of the retaining wall. The vibrant foliage contrasts with the weathered steel, adding a touch of natural beauty and softness to the overall design.
5. Lighting Effects: Install outdoor lighting fixtures within or behind the landscape edging to create dramatic lighting effects. Illuminating the wall can enhance its texture and create a captivating play of light and shadows, especially in the evening.
6. Seating and Relaxation Areas: Design seating areas or benches into the Steel Metal Garden Edging to encourage relaxation near water features. The rustic charm of Corten steel enhances the ambiance of these spaces, providing an inviting place to enjoy the sights and sounds of the water.
By thoughtfully integrating Outdoor
Corten Steel Retaining Walls
with water features or fountains, you can create a landscape that combines the rugged beauty of weathered steel with the soothing elements of water. The result is a captivating and harmonious outdoor space that is both functional and aesthetically pleasing.
Ready to enhance your landscape with the beauty of Corten Steel Retaining Walls and captivating water features or fountains?
Contact us
today for a quote and bring your vision to life, creating an outdoor oasis that truly stands out.
Corten steel lawn edging is a remarkable landscaping feature that combines both aesthetics and functionality, making it a valuable addition to any garden project. Let's explore how Corten steel lawn edging can enhance the value of your garden project:
1. Enhanced Aesthetics: Steel Metal Garden Edgingg's graceful lines and unique shapes can serve as a captivating focal point in your garden, elevating its overall visual appeal. When paired with plants, flowers, and other landscaping elements, it creates a visually striking landscape that exudes elegance and sophistication.
2. Improved Practicality:
Steel Metal Garden Edging
boasts excellent weather resistance and corrosion resistance, ensuring it maintains its original luster and color for an extended period. Its resistance to rust and rot makes it a highly practical choice for protecting lawns, preventing soil erosion, and enhancing the garden's stability and longevity.
3. Enhanced Sense of Space: Utilizing Steel Metal Garden Edging to divide and expand garden spaces can significantly enhance the sense of space and layering in your landscape. By guiding the line of sight and creating visual focal points, it transforms your garden into a more inviting and spacious environment.
4. Safety Improvement: Corten steel lawn edging can also serve as a safety warning and protective barrier, reducing the risk of accidental injuries to children and pets in the garden. Additionally, it can be utilized as a marker for emergency escape routes, enhancing overall garden safety.
If you're interested in our products, please don't hesitate to
contact us
. We are committed to providing you with the best service and the most competitive prices!